Colloquium GRIFGA 2015

Gruppo di Ricerca Europeo Italo-Francese in Geometria Algebrica
Groupement de Recherche Européen Italo-Français en Géométrie Algébrique
Palazzo Feltrinelli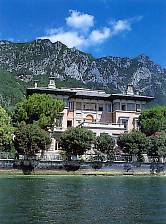 Gargnano del Garda (Brescia), April 15-18, 2015
---
Minicourses
· Charles FAVRE (Centre Mathématiques L. Schwartz – Éc. Polytechnique - Palaiseau). "Algebraic dynamic of polynomial maps" " Beamer slides
· Francesco RUSSO (Dip.to Matematica e Informatica – Univ. Catania). "Hypersurfaces with vanishing hessian via Gordan-Noether theory and Perazzo map" " Beamer slides
---
Invited speakers
· Jérémy BLANC (Univ. Basel - Mathematisches Institut). " Dynamical Degrees of Birational transformations of projective surfaces" Beamer slides
· Cristiano BOCCI (Dip.to di Scienze Matematiche e Informatiche – Univ. Siena). " A first approach to Hadamard product of varieties " Beamer slides
· Cinzia CASAGRANDE (Dip.to Matematica – Univ. Torino). " Parabolic bundles on P^1 and the variety of linear subspaces contained in two odd-dimensional quadrics
· Andreas HOERING (Lab. Mathématiques J.A. Dieudonné – Univ. Nice). " Rational curves on compact Kaehler manifolds.
· Erwan ROUSSEAU (LATP - CMI - Université d'Aix - Marseille). " Curves in Hilbert modular varieties. " Beamer slides
· Anne-Sophie KALOGHIROS (Dep. Mathematics - Brunel University - London). " The Sarkisov program for Mori fibered l.c. Calabi-Yau pairs. " Beamer slides
---

Schedule
Arrivals are expected on 15 April. The colloquium will start on the morning of 16 April and end with the lunch of 18 April.
Here is the Schedule of Minicourses and Talks.
---
Practical information

How to reach Palazzo Feltrinelli: click here.

Useful links.
---
Organizers
Gilberto Bini (gilberto.bini@[NOSPAM]unimi.it),
Flaminio Flamini (flamini@[NOSPAM]axp.mat.uniroma2.it),
Carlo Gasbarri (gasbarri@[NOSPAM]math.unistra.fr),
Massimiliano Mella (mll@[NOSPAM]unife.it),
Gianluca Pacienza (pacienza@[NOSPAM]math.unistra.fr).
---
List of participants
---
Participation

If you want to attend to GRIFGA COLLOQUIUM, please send an e-mail to M. Mella (mll@unife.it) and F. Flamini (flamini@mat.uniroma2.it), within the DEADLINE 15 March 2015.
---
Financial support

Limited funding is available for young researchers and Ph.D. students.

To get financial support, please contact, with in the DEADLINE 30 November 2014:
· M. Mella and F. Flamini, for the GRIFGA italian branch.
· C. Gasbarri or G. Pacienza, for the GRIFGA french branch
---