!body background="sfondo.jpg">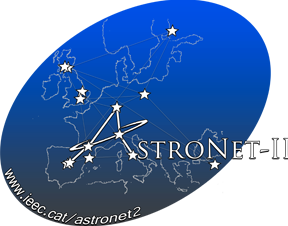 ---
Astrodynamics of Natural
and Artificial Satellites: from
Regular to Chaotic Motions
First Training School in the Framework of the
Astrodynamics European Network AstroNet-II
Rome "Tor Vergata" Univ. - Jan. 14/17 (2013)
---
---
(From the email sent to the participants on friday the 11-th of jan. 2013)
In order to make more comfortable your participation, a bus daily service between the hotel Archimede and the University of Rome Tor Vergata has been organized. The bus to the university will leave at 8.30 a.m. everyday from the Archimede Hotel (Via dei Mille 19, 00185 Roma). As you can notice by the map is very narrow, and the bus will not be able to stop for long time. Thus, every participant willing to take the bus in the morning is kindly requested to be on time.
At the end of the day the bus will take the participants back to the hotel. Orientatively, it will depart from the faculty on Monday 14th at 17.20, on Tuesday 15th at 16.30 and 18.00, on Wednesday 16th at 17.40, on Thursday 17th at 17.10.
(From the email sent to the participants on tuesday the 8-th of jan. 2013)
A social dinner has been organized for wednesday 16th of january 2013, at the restaurant Da Nazzareno (via Magenta, 33-35-37, nearby Termini station and Hotel Archimede). The fixed price for the full dinner is 25,00 € per person. Unfortunately, the organization cannot cover that price for any participant to the "First AstroNet-II Training School".
---